CityServe 2017 - Let the Stories Continue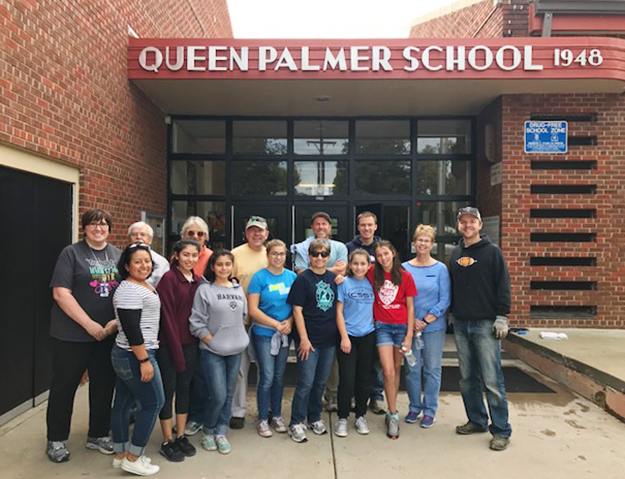 Nearly 500 people from FirstPres went out this past weekend and showed our city the love of God through tangible acts of service. With 1,800 participating at 76 different sites, there are bound to be stories about the Kingdom work that took place this weekend.
Spontaneous Service
As over 100 volunteers gathered at Garden of the Gods—many from our very own Missional Communities—a couple asked our CityServers what they were doing. They answered simply that they were helping to clean up the trails. Without hesitation, the couple that had been visiting Garden of the Gods as the tourist attraction that it is stopped what they were doing and got down on their knees in service.
Potential for Partnership
Many from our New Members class went to Queen Palmer Elementary, a D11 school, and helped make the school a little more beautiful. There were about 30 people from different churches that helped in this process. The school principal stopped by and was amazed at what an incredible group was there to serve her school. She mentioned to one of the team members that she would love a church partner, just like what she heard about the night before when Kevin Palau shared about all that is happening in the Portland area.
Just the beginning
These are just two of the many stories of thankfulness, selflessness and hope that took place during CityServe weekend. If you have a story, or if you heard a story, please share it! There is power in the stories of God's people at work in His Kingdom. You can write them in the comments beneath this post.
While CityServe 2017 is now in the past, it's not over! Rather, this is just the beginning of the people of Colorado Springs engaging in their community and extending a hand.
"So may it be that we step out of our safe place and serve our community with unity and bring the beauty of the church back to life."
If you served this past weekend and desire to continue, or if you were unable to serve but want to begin to engage in our community, please call or email the City and Global Engagement Office at 719-884-6233 to get started.
Romans 10:15
"How beautiful are the feet of those who bring good news!"
View all CityServe 2017 Stories >>